As a ceramicist, my practice aims to communicate and show awareness about the autistic condition through exploring common traits and behaviours such as difficulty expressing emotion, struggling managing changes and a strong sense of not fitting within self or society. These issues are expressed through ideas of fragmentation, fracturing and dilemmas associated with touch and handling.
The head form and facial features are explored as a vehicle for expression as this is the part of the body that tells us the most about an individual's mood, personality, and state of mind. The use and application of colour, pattern and surface treatment reinforces these ideas. Everyone might recognise some of these behaviours so although coming from an autistic perspective my work can also speak more broadly to non-sufferers or even trigger recognition in those not yet diagnosed.
I aim to challenge perceptions, leading towards a better understanding of the autistic condition visually, physically, and emotionally through engagement with my work.
Ceramic Collection dipicting traits of autism
Wall Hanging Heads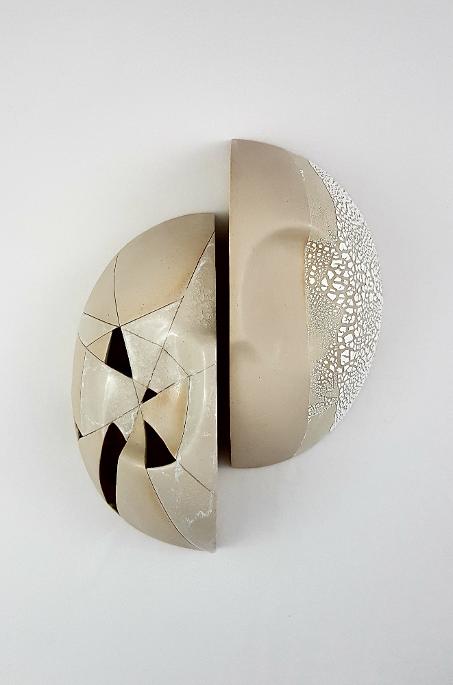 Title: Ups and Downs
Media: Ivory Stoneware clay
DImensions of each head: H24cm L10.5cm D9cm
When handling every day experiences and situations an autistic person's emotions are either up or down, from highly excited to border depressive.
Title: Motions of Emotion
Media: Black clay
Dimensions: Each individual piece H12.5cm L8.8cm D4cm. (As a 5 set display H 75cm L8.8cm).
On the outside of an autistic person's reaction, the onlooker will see the constant motion of frustration and desensitisation, which shows only the trait of the emotional chaos from within, this is due to the emotional barrier preventing the autistic person expressing themselves.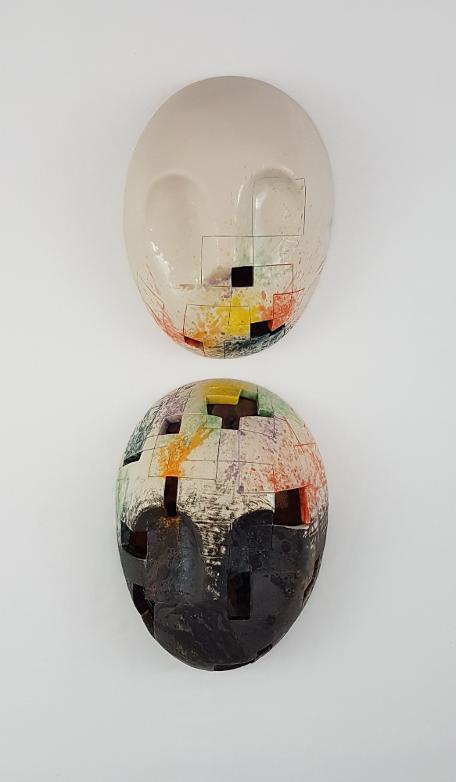 Title: Data Congestion
Media: Ivory Stoneware clay
Dimensions: Each piece is H20.6cm L15.3cm D8cm. (As a 2 set display H 24cm L15.3cm).
Due to the processing delay when an autistic person tries to digest too much information, it takes longer to process and can cause them to have information overload, which can lead to confusion in the brain and possible metal shutdown.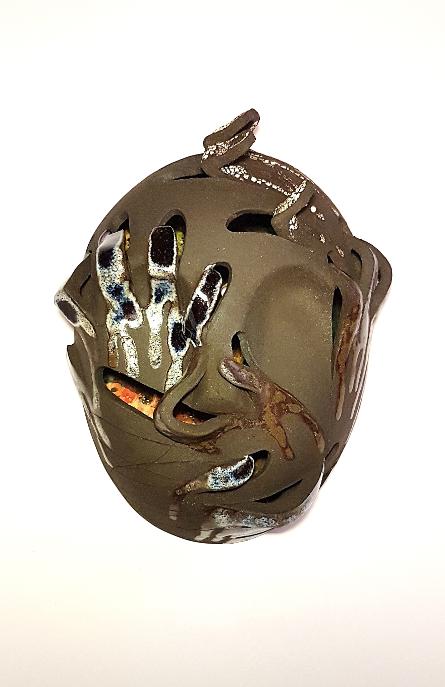 Title: Sensory Overload
Media: Black clay
Dimensions: H20.6cm L15.3cm D8cm
Many people on the autistic spectrum have difficulty processing everyday sensory information. These senses include: Sight, Sound, Smell, Taste and Touch. Too much of these sensory input can coarse: stress, anxiety, and possibly physical pain. This can result in challenging behaviour, withdrawal or meltdowns to those effected.
Title: Made up of missing pieces
Media: Ivory Stoneware clay
Dimensions: Each piece is H12.5cm L8.8cm D4cm
Representing the personal feeling an autistic person experiences when being misunderstood and penalised within societies norms.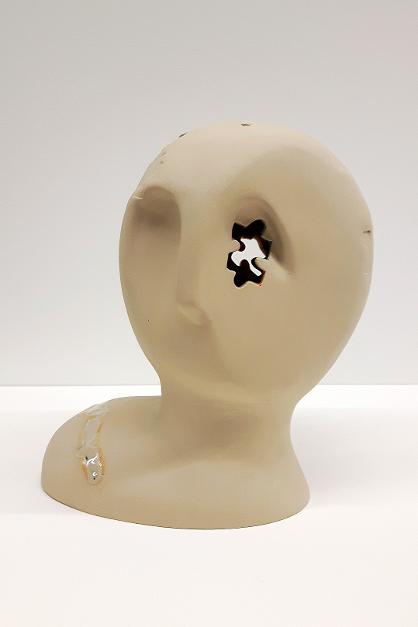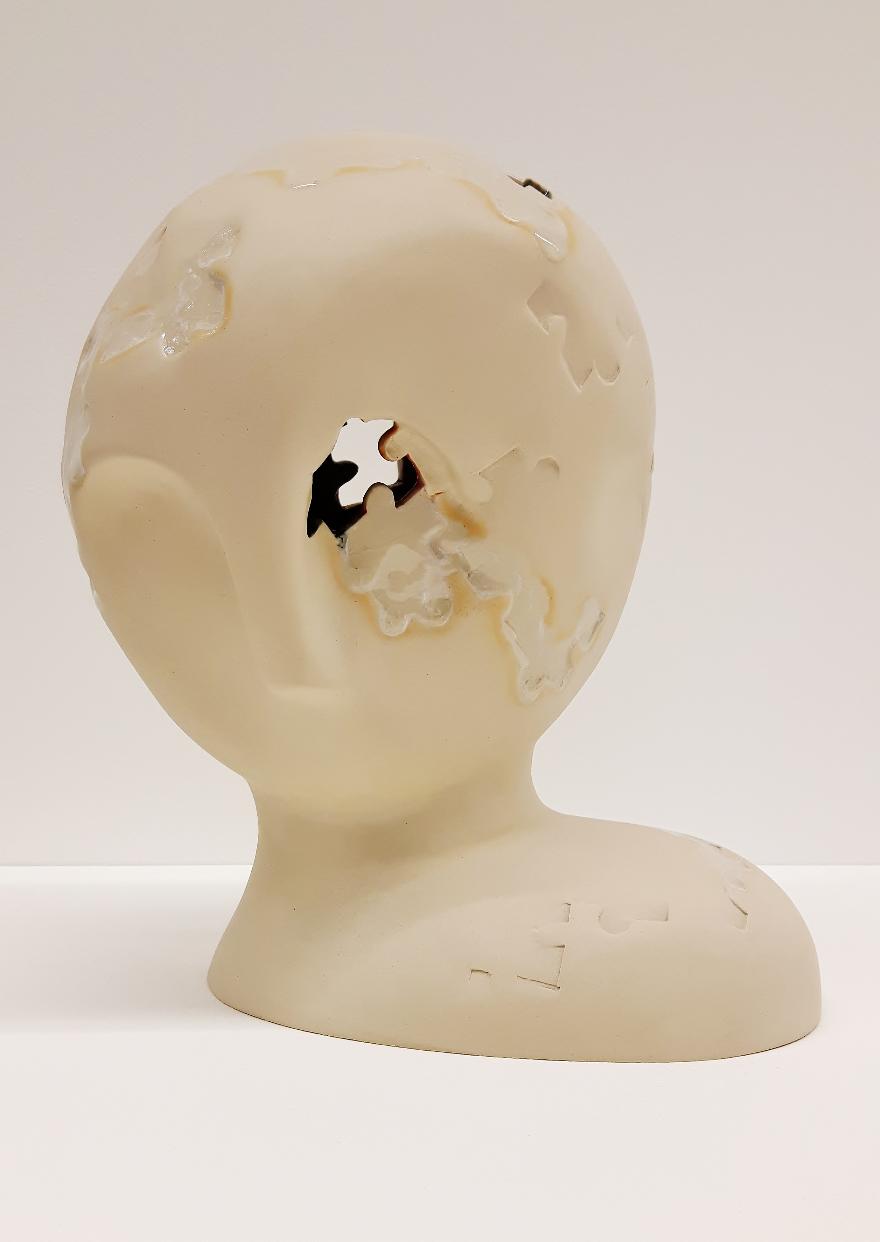 Title: Highs & Lows of Misses Pieces
Media: Ivory Stoneware clay
Dimensions: H16.5cm L24cm D18cm
The use of Jig saw pieces translates how autistic people have to be nurtured or teach themselves body language, eye contact and social interaction, which comes naturally to an average person. The facial distortion and explosion of colours inside represents the inner feelings of autistic person.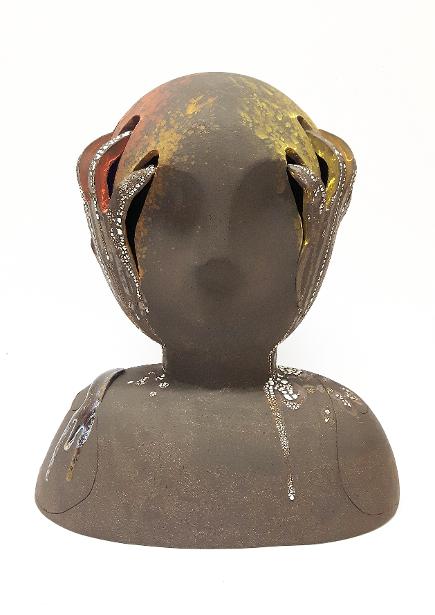 Title: Resistance of Change
Media: Black clay
Dimensions: H30.65cm L30 D16cm
Autistic people need a routine to enable them to manage their condition, once a sudden change or overload of changes interrupts there system it takes away their control, causing the Autistic person to become frustrated ending in possible breakdown.
Title: Missing Pieces
Media: Ivory Stoneware clay
Dimensions: H16.5cm L8cm D8cm
An autistic person has to teach themselves body language and social skills, which usually comes naturally to the general public, causing them to feel made up of missing pieces.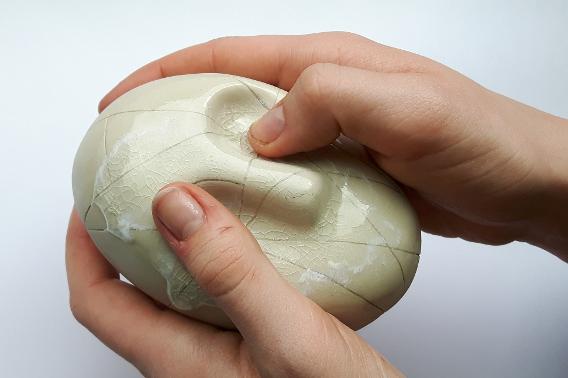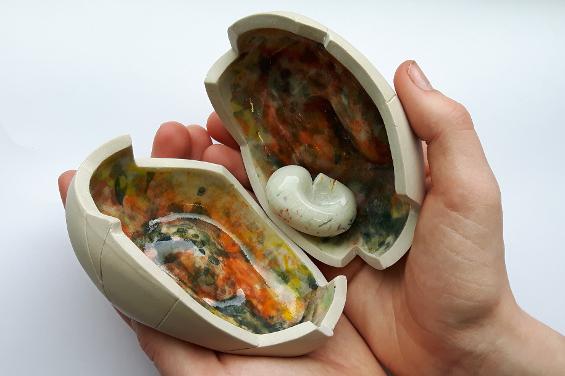 Title: Inside Out
Media: Ivory Stoneware clay
Dimensions: H11.5cm L8cm D7cm
The cup represents the body, while the vessel symbolises the autism hidden inside to be revealed when opened. This is something that can be held and used to store something precious.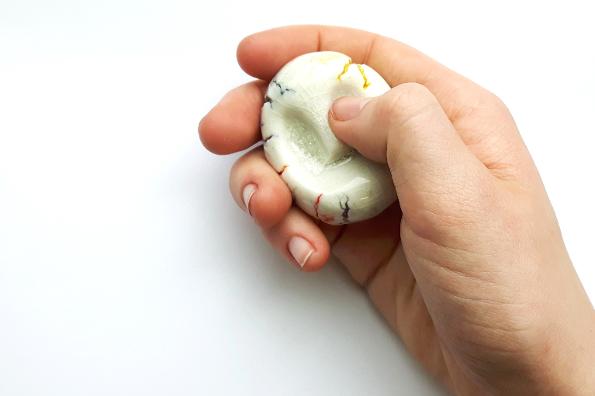 Title: Handle but don't Touch
Media: porcelain clay
This explores the relationship between the onlooker and the autistic trait of not wanting to be touched, as the cracked glazes, distorted forms and colours attract people to want to touch and fiddle with the pocket heads, which are made to release peoples anxiety. The trait of autism is then frustrated by being touch translated by the distortion, cracks and colour. This is to communicate when an autistic person is going through a breakdown, the surrounding audience naturally want to reassure the autitic person by touch, causing that person to get worse.
The Bradford Coal Mine Pit Collections
I discovered there was once a coal mine in Bradford, Manchester. This massive industry is buried, rotting beneath our feet. I was drawn to create my finished product by the story of life in and about the mines told by those who were there.
My vase tells the story of the mines. Using ivory stoneware clay I have recreated the mine and sedimentary layers of rock using a variety of textures to identify the different layers. The vase shows the past, terraced houses and daily life and the present City Stadium, built upon mine shafts left nearly forgotten.
The wonkiness of the form emphasises the instability of the old mine shaft, solid structures above empty veins below.
Media: Ivory Stoneware clay